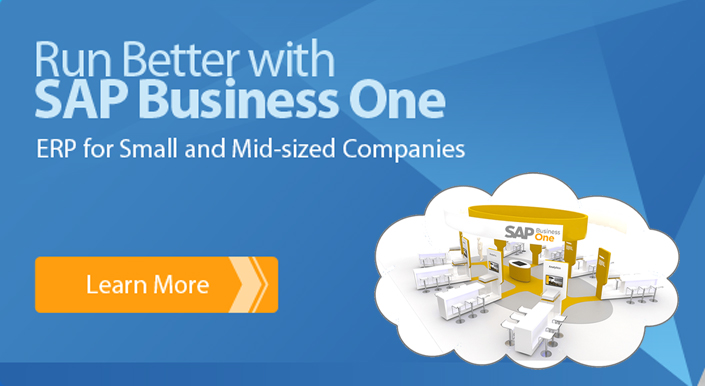 SAP Business One
It's critical for fast growing companies to continuously reinvent its business with technology at the core. Existing business models are changing, and you need to become an intelligent, digital business.
SAP Business One is the digital core for small and medium size businesses supporting digital enabling technologies. By integrating all critical business functions, SAP Business One supports sales, customer relationship management (CRM), purchasing, inventory, operations, financials, and human resources. Business information captured in a single system is instantly accessible across the organization, eliminating duplicate data entry along with related errors and subsequent costs.
Key Functionality
1. Finance
Handle financial transactions including account journal entries, multi-dimensional cost centers, foreign currency adjustments and budgets.
Chart of accounts and account segments
Budget cost centers and sales tax calculations
Recurrent transactions
Exchange rates in multiple currencies
Financial report and cash flow forecasting
Fix assets
Cost accounting
Cash flow forecast
2. Sales
Easily create quotes, customer orders, set up deliveries, update stock balances, and manage all invoices and accounts receivables.
Quotations, orders and invoices
Deliveries and returns
Price lists in multiple currencies
Available-to-promise
360 degree view for customers and their needs
Managing sales and opportunities efficiently
Credit control
Price list control
3. CRM
Optimize the potential of service departments, service contract management, and service planning and tracking of customer interaction activities.
Opportunities and pipeline management
Service contract management
Service planning
Tracking across multiple customer interactions
Knowledge database
Service call management
Providing support for service operations
Customer segmentation
4. Purchasing
Manage supplier transactions such as issuing purchase quotes and orders, updating stock, handling returns and credits and processing payments.
Purchase quotations
Purchase orders and purchase deliveries
Purchase returns and purchase credit notes
Purchase requisition
Landed costs
Calculating landed costs for imports
Blanket agreements
5. Project
Enable project based coordination between project planning, materials, capacity and resource utilization, ensuring that projects remain on time and within budget.
Job Budget
Define Project
PO relevant to the project
Capacity planning
Gantt chart for project planning
Update project stages
Update status
Financial Reports
Shortcomings
End to End project life cycle management
6. Inventory
Handle stock levels, item management, price lists, special price agreements, transfers between warehouse and stock transactions.
Item management and item queries
Price lists control
Receipt to stock and release from stock
Warehouse management and kitting
Serial numbers tracking and batch management
Pick & pack
Multi-level UOM
7. Production
Production orders that contain the assembly and planning instructions in putting together the production item
Bill of materials
Production orders
Forecasting
Materials requirement planning wizard
Recommendation reports
Routing
Costing
WIP control
Resource Management
Which SAP SME ERP Solution Is Right for Your Business?