A guide to using SAP Business One - Purchase Process
Reference document:
I. Purchase Order
User click Main Menu -> Purchasing – A/P -> Purchase Order for create new sales order.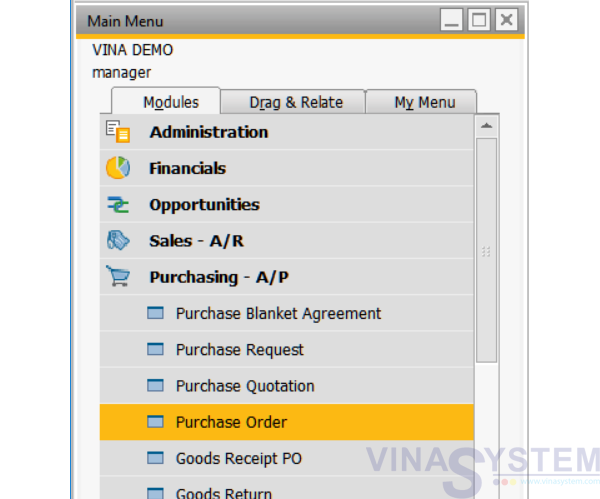 Pic 1
Appear windows of Purchase Order
Area 1: vendor information
Area 2: commodity information
Area 3: total order value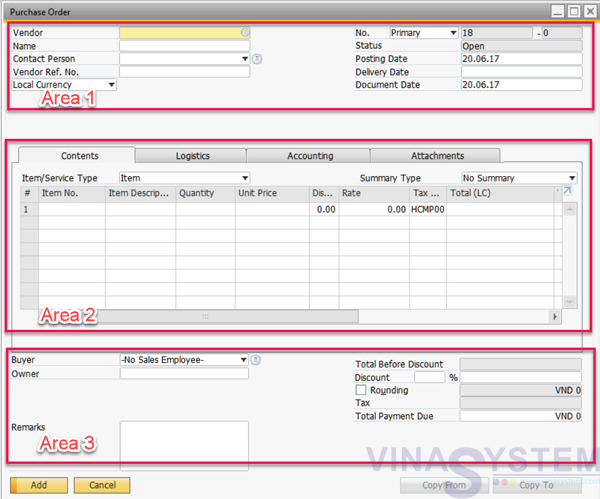 Pic 2
Choose Vendor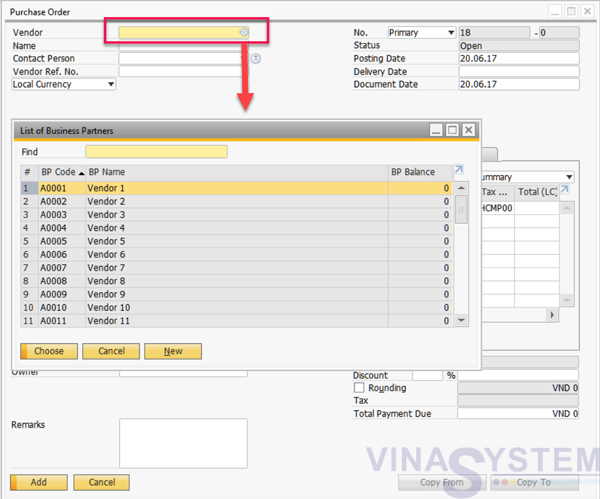 Pic 3
User select Item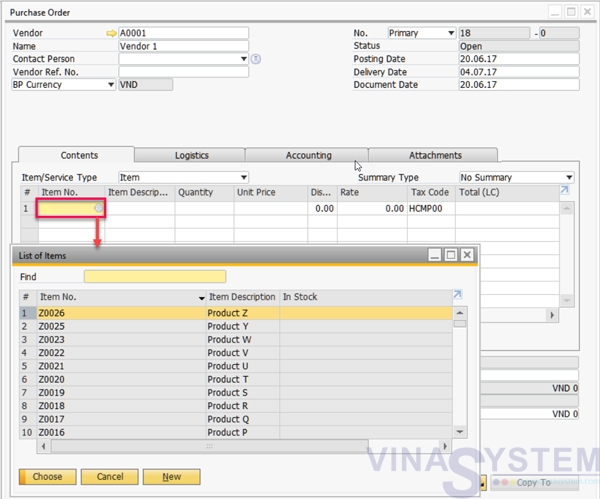 Pic 4
Area 1:
Posting Date
Delivery Date
Document Date
Area 2:
Quantity
Unit Price
Discount
Tax Code
Total
Whse
Click Add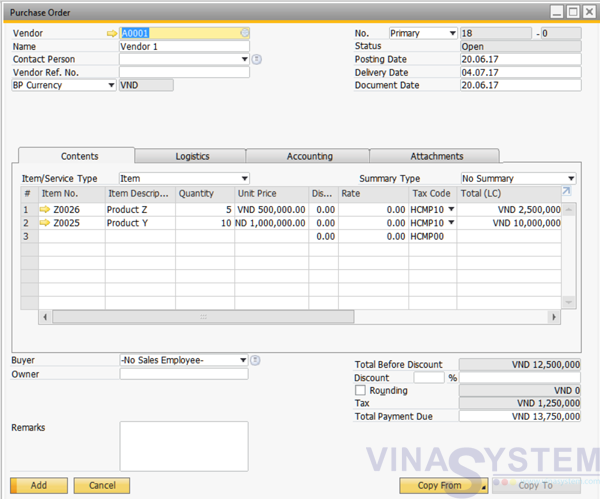 Pic 5
Note: Purchase Order created does not affect the actual stock and does not generate journal entries
II. Goods Receipt PO
We have two option create Goods Receipt PO
Option 1: From Purchase Order screen, User use command Copy To and click Goods Receipt PO
Pic 6
Option 2: Create Goods Receipt PO by click Main Menu - > Purchasing -A/P -> Goods Receipt PO, Choose Vendor and user use command Copy From and click Purchase Order
Pic 7
All inventory information has been recorded in the system, click Add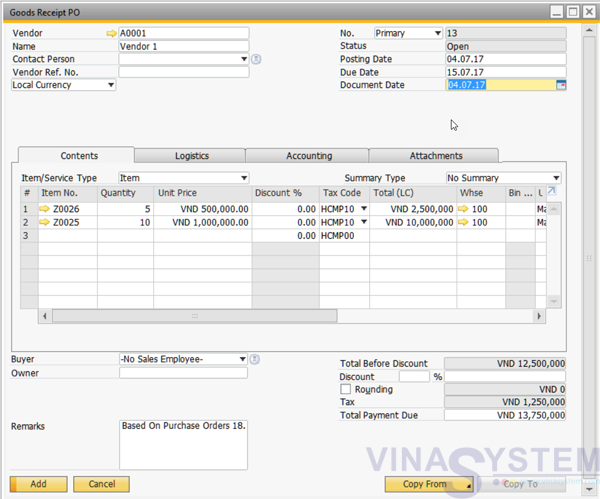 Pic 8
III. A/P Invoice
The A/P Invoice screen allows logging of input information and affects the vendor's debt. Users manipulate the Copy From or Copy To functions similarly to the Goods Receipt PO screen.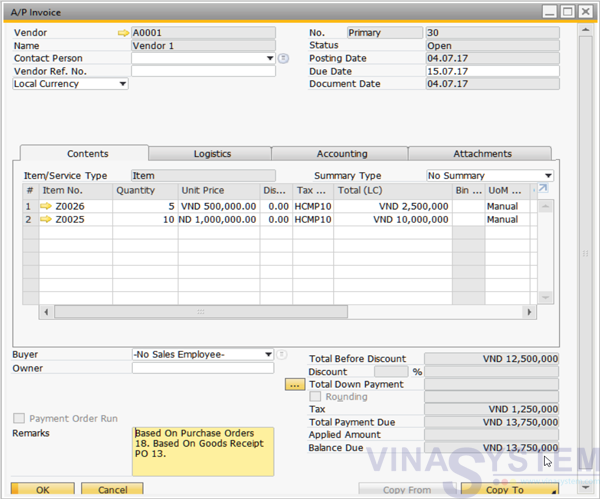 Pic 9
IV. Outgoing Payment
After user have completed the steps of the purchase process including Purchase Order -> Goods Receipt PO -> A/P Invoice, the next step is to pay the customer according to the established invoice.
Click Modules Banking -> Outgoing Payments -> Outgoing Payments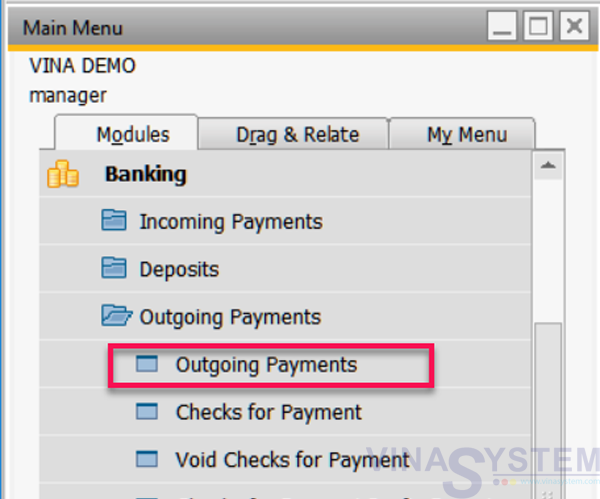 Pic 10
Select the vendor, select the bill for payment, click on the wallet icon to complete the payment to the supplier.
Pic 11
Select the form of payment by cash or transfer, press Ctrl Tab choose the amount to pay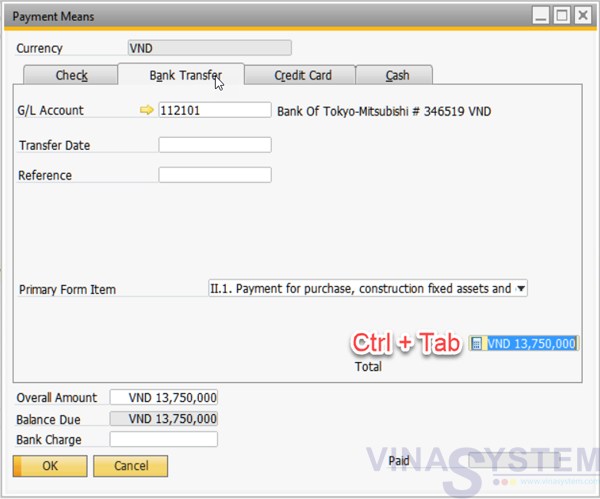 Pic 12
Click Add on Outgoing payment screen
Copyright VinaSystem 20/06/2017