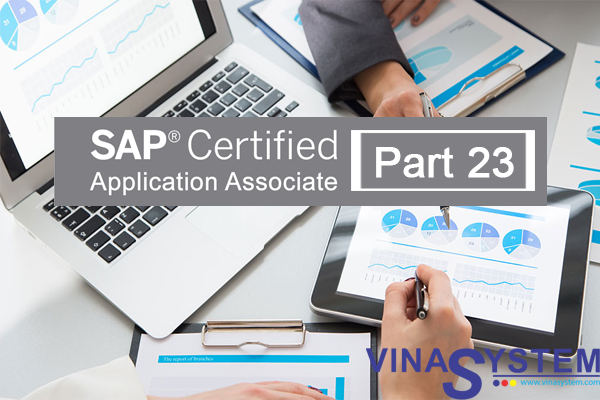 221. Which are the statements True to report book in XL REPORTER?
a) Will prompt for Parameter
b) Contain worksheet for each report.
c) Display the result for executed reports as a work book
d) Used in report organizer to provide a storage system for report instances in SAP B1 data base.
Answer: B, C & D
222. You should keep the Tax group field in the master record of domestic business partners empty
a) True
b) False
Answer: a) True
223. Which are True to report Job can be linked to several report package?
a) Report package cannot be viewed within the package Tab
b) Parameter value can be set for each package by selecting the package and the set parameter button.
c) The enter parameter window allows you to enter single parameter value or multiple parameter value.
d) When entering multiple parameter value the enable multiple options may be checked ON.
Answer: B & C
224. Training material on new features is available on expert e-learning on SAP Business One
a) True
b) False
Answer: b) False
225. Acquisition Tax is just a tool to report the European purchase to the Tax Authorities in SAP B1
a) True
b) False
Answer: a) True
226. A license is always valid for a named user
a) True
b) False
Answer: a) True
227. You can save reports as picture files in
a) *.txt
b) *.bmp
c) *.xml
d) *.jpg
Answer: d) *.jpg
228. What are True to Steering Committee Responsibility In Acceleration Implementation Program?
a) Risk Management
b) Project Management reports on project status
c) Approval of all project results
d) Overall execution and success of the project
Answer: B & C
229. What are True to Phantom Items in Production Process?
a) A phantom item is a sub assembly in the BOM that does not actually exists in inventory.
b) An item can be defined as a phantom item in the item master data.
c) The MRP Run will explode the phantom items and create recommendations for its components.
d) The phantom Item will be displayed in the MRP result window with recommendations.
e) The production order will explode the phantom BOM and display its components in the required order.
Answer: A, B, C & E
230. If you change the prices for child items in the price list used for creating the BOM the system automatically changes the price for the parent items
a) True
b) False
Answer: b) False
SAP Business One Certification Question Part 22
Sample questions for Business One certification
The history of SAP Business One
Why choose SAP Business One (SAP B1)